Page 7 - EKOFULL - KASIM
P. 7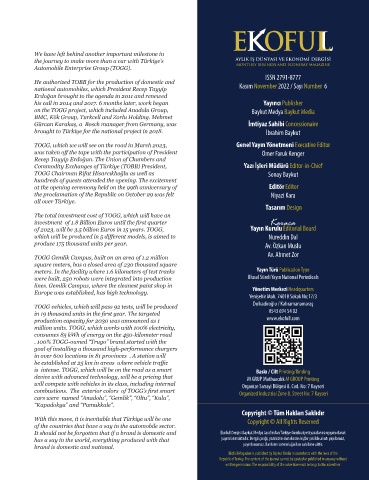 We have left behind another important milestone in
            the journey to make more than a car with Türkiye's                 AYLIK İŞ DÜNYASI VE EKONOMİ DERGİSİ
            Automobile Enterprise Group (TOGG).                                MONTHLY BUSINESS AND ECONOMY MAGAZINE
                                                                                         ISSN 2791-8777
            He authorized TOBB for the production of domestic and
            national automobiles, which President Recep Tayyip                  Kasım November 2022 / Sayı Number  6
            Erdoğan brought to the agenda in 2011 and renewed
            his call in 2014 and 2017. 6 months later, work began                       Yayıncı Publisher
            on the TOGG project, which included Anadolu Group,                      Baykut Medya Baykut Media
            BMC, Kök Group, Turkcell and Zorlu Holding. Mehmet
            Gürcan Karakaş, a  Bosch manager from Germany, was                     İmtiyaz Sahibi Concessionaire
            brought to Türkiye for the national project in 2018.                         İbrahim Baykut

            TOGG, which we will see on the road in March 2023,                 Genel Yayın Yönetmeni Executive Editor
            was taken off the tape with the participation of President                  Ömer Faruk Kenger
            Recep Tayyip Erdoğan. The Union of Chambers and
            Commodity Exchanges of Türkiye (TOBB) President,                      Yazı İşleri Müdürü Editor-in-Chief
            TOGG Chairman Rifat Hisarcıklıoğlu as well as                                 Sonay Baykut
            hundreds of guests attended the opening. The excitement
            at the opening ceremony held on the 99th anniversary of                        Editör Editor
            the proclamation of the Republic on October 29 was felt                        Niyazi Kara
            all over Türkiye.
                                                                                         Tasarım Design
            The total investment cost of TOGG, which will have an
            investment  of 1.8 Billion Euros until the first quarter
            of 2023, will be 3.5 billion Euros in 15 years. TOGG,                   Yayın Kurulu Editorial Board
            which will be produced in 5 different models, is aimed to                     Nureddin Dal
            produce 175 thousand units per year.                                         Av. Özkan Muslu

                                                                                         Av. Ahmet Zor
            TOGG Gemlik Campus, built on an area of 1.2 million
            square meters, has a closed area of 230 thousand square
            meters. In the facility where 1.6 kilometers of test tracks               Yayın Türü Publication Type
            were built, 250 robots were integrated into production                 Ulusal Süreli Yayın National Periodicals
            lines. Gemlik Campus, where the cleanest paint shop in                  Yönetim Merkezi Headquarters
            Europe was established, has high technology.
                                                                                   Yenişehir Mah. 74018 Sokak No:17/3
                                                                                     Dulkadiroğlu / Kahramanamaraş
            TOGG vehicles, which will pass 92 tests, will be produced
            in 19 thousand units in the first year. The targeted                          0543 694 54 02
            production capacity for 2030 was announced as 1                              www.ekofull.com
            million units. TOGG, which works with 100% electricity,
            consumes 85 kWh of energy on the 450-kilometer road
            . 100% TOGG-owned "Trugo" brand started with the
            goal of installing a thousand high-performance chargers
            in over 600 locations in 81 provinces  . A station will
            be established at 25 km in areas  where vehicle traffic
            is  intense. TOGG, which will be on the road as a smart                   Baskı / Cilt Printing/Binding
            device with advanced technology, will be a pricing that                M GRUP Matbaacılık M GROUP Printing
            will compete with vehicles in its class, including internal          Organize Sanayi Bölgesi 8. Cad. No: 7 Kayseri
            combustions.  The  exterior colors  of TOGG's first smart            Organized Industrial Zone 8. Street No: 7 Kayseri
            cars were  named "Anadolu", "Gemlik", "Oltu", "Kula",
            "Kapadokya" and "Pamukkale".

            With this move, it is inevitable that Türkiye will be one
            of the countries that have a say in the automobile sector.
            It should not be forgotten that if a brand is domestic and    Ekofull Dergisi Baykut Medya tarafından Türkiye Cumhuriyeti yasalarına uygun olarak
            has a say in the world, everything produced with that         yayımlanmaktadır. Dergi içeriği, yazılı izin olmaksızın hiçbir şekilde alıntı yapılamaz,
            brand is domestic and national.                                      yayınlanamaz. İlanların sorumluğu ilan sahibine aittir.
                                                                             Ekofull Magazine is published by Baykut Media in accordance with the laws of the
                                                                         Republic of Turkey. The content of the journal cannot be quoted or published in anyway without
                                                                                                              5
                                                                                                www.ekofull.com
                                                                           written permission. The responsibility of the advertisements belongs to the advertiser.